TATA Technology's Compressed Air-Powered Car Engine In 2012
The world's first air-powered vehicle is set to for release in India this year - 2012. The car runs on compressed air making it a zero carbon emission vehicle. To make it even greener, it also uses vegetable oil as engine oil. This amazingly clean and green vehicle is called the "MiniCAT".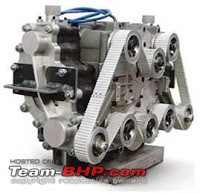 The Compressed Air Engine (CAE) was developed by ex-Formula One engineer, Guy Nègre, for the French company Motor Development International (MDI). TATA Motors, India's largest automaker, has invested on MDI's engine to produce the world's first air-powered vehicle.
Powered by compressed air the vehicle produces 0% CO2 emissions. Clean air is expelled by the exhaust pipe has a temperature between 0-15 degrees below zero. Which can be used for the vehicle's air conditioning, with no loss of power and mileage.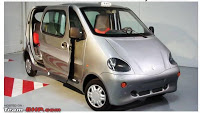 The MiniCAT is a light urban car, which is suitable for city transportation. It is a six-seater vehicle built with aluminum rod chassis, fibre and injected foam body, 800cc four-cylinder engine with a maximum power of 25hp at 4,000rpm and a regenerative braking system, which recovers 13% of used power. It can reach a top speed of 110 km/h and can travel up to 200km between refills. Its 340-litre carbon fiber air tank can be filled with 4350psi air.

A refill via pressure hose will only take two minutes and cost approximately 
$ 2. While a refill using the built-in compressor plugged into an electric socket will take up to 3.5 hours.
The cost for every vehicle is currently estimated to start at 
$12,000.
This vehicle will definitely be a breakthrough. It will CO2 emissions, currently automobiles contribute 15 to 20 percent of the world's emissions. The success of this technology will urge the large automaker to develop  a similar or even better technology.

The sad thing is that MDI and TATA Motors has tried to launch this technology since 2007. But it has not seen the light of day until now. Hopefully this year will the time for this breakthrough to shine. And the key to the success of clean technology is for us to show the world that we need it and we want it!
If we can use air as fuel, why think about using anything else? Air is all around us. Air never runs out. Air is nonpolluting. Best of all, air is free.  - howstuffworks.com
I want this in the Philippines!  I will look forward for their release.