Audi's Hybrid Cars Win Le Mans 24 Hour Endurance Race
Audi's hybrid car, R18 E-Tron Quattro, became the first hybrid to win the Le Mans 24 hour endurance race. A historic first in more than 80 years of the prestigious French 24 hour endurance race. Following the winning car to the podium is another hybrid from Audi, at second place. Audi dominated the race grabbing also the third spot with a conventional diesel engine.

Le Mans is one of oldest, and most challenging races on the international circuit. Its 24 hour endurance race format puts its three driver team's stamina to the test. It also challenges the engineers to design and tune their vehicles to attain its maximum fuel efficiency potential.
Audi has won the race 10 times since 2000, but this year they brought in hybrid cars for the first time. The No. 1 hybrid car was  driven by the team of Marcel Fassler, Andre Lotterer, and Benoit Treyuler, who completed 378 laps in 24 hours. While the other hybrid was driven by Rinaldo Capello, Tom Kristensen, and Alan McNish, finished at second place.
With its hybrid systems, Audi had some competitive advantage coming into the race. Being able to switch from gasoline to electric power boasts fuel efficiency, which means lesser pit stops. The low-end torque of the electric motor also added to the advantage, providing faster acceleration out of corners.
Audi was not the only team to field in hybrids at the recent Le Mans 2012. Toyota brought in two hybrids, it is the company's first appearance since Le Mans 1999. Unfortunately Toyota's two hybrids was not able to finish the race, both were knocked out via collision.
The win is a huge boast for hybrids, not only on the race but also for commercial and public use. But it surely does not mean that hybrids would now dominate the race. Especially with the fact the the third placer R18 ultra, which is powered by a conventional diesel engine, logged the same number of pit stops with the No. 2 E-Tron Quattro. May be with another win next year, gasoline powered car teams would need to worry then.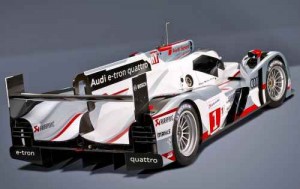 source: bloomberg