BMW's Electric Scooter Packs 75 mph - The Green Solution for Crowded Urban Centers
|
Electric scooters have been dabbed as one of the greenest practical solution for crowded urban centers. BMW's electric scooter is designed to achieve the performance specification of a gasoline-fueled scooter. This all-electric scooter will pack a top speed of 75mph, and a full charged battery range of 100 kilometers or 62 miles plus the range added with the use of its regenerative braking system. And it plugs into standard electric cars charging stations.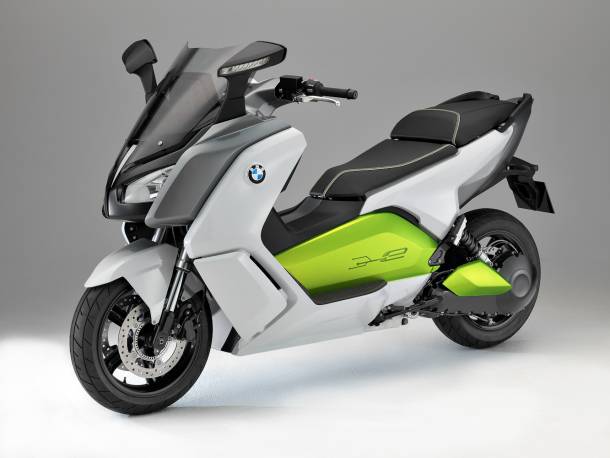 The C Evolution is the third generation of an electric scooter used as a test prototype in real world situations. It uses an electric motor and runs on 11 kilowatt kW) continuous output with 35 kW at peak. It was designed to reach a top speed of 75 mph with the acceleration similar to a 600cc scooter, minus the CO2 emissions. So it can basically go from 0 to 60mph in seven seconds.
Although it comes with a large battery back, it does not use liquid cooling. Instead, its casing channels air through the individual cells. As the batteries produce more heat under load, the C Evolution should be going faster as the batteries hit higher temperatures, improving the air flow.
The C Evolution electric scooter also packs an anti-lock brakes, one technology borrowed from BMW's extensive experience building motorcycles. To extend battery life, it also uses brake regeneration, which helps account for its range.
A single swing arm supports the rear drive wheel, which is turned by a shaft. LED lights decrease the load on the battery, and the rider gets speed and battery status from a LCD.
The charge also feeds a thin-film transistor (TFT) instrument cluster, allowing displays for the battery charge state and energy balance – a "progress bar" that tells whether energy is currently being recuperated, or converted into forward propulsion.
Interestingly, BMW incorporates a J1772 charging port, the same as used in new electric cars. The C Evolution can be charged from empty to full in as little as three hours.
There is no word yet on a production version and its price. But the company plans for a production in the very near future.
With electric cars slowing scoring high on the market. The production of this electric scooter will be big step towards going for greener technology, especially from an automobile giant BMW.
Hopefully this beautiful concept will reach especially third world countries where motorcycles are a major mode of transport.
source: Wired Autopia