This is a featured news via ecogeek.org 
by
Philip Proefrock

Two years ago, automakers were scrambling to out-green each other and to emphasize their green halo, and the show's main floor included an 'Electric Avenue' with all manner of unusual vehicles (most of which have not returned). But the age of the bamboo thumb drive has already passed. As we noted last year, hybrids and electric drive vehicles now just seem to be an expected part of the mix in a manufacturer's line. Along with this, relatively simple features like auto-start/stop are becoming more prevalent in more models.
A couple of new companies on this year's show floor were particularly interesting. These include Coda, a company that is selling electric drive cars. They seem to have just a single model, but the company looks like a more complete contender than BYD, another Chinese manufacturer that has been at show the past couple of years, was not present at this year's show. (The Coda body and battery are manufactured in China, but final assembly takes place in the US.)

VIA Motors is another newcomer to the main floor. Like
AMP Motors
, VIA is modifying existing vehicles (in this case GM pickups, SUVs and vans) to convert them into extended-range electric vehicles. With the improved efficiency and all electric drive, VIA states their vehicles get "over 100 mpg in typical daily driving."
Some of the other green entries appearing at this year's show include:
Honda - although the Civic Natural Gas is this year's Green Car of the Year, it seems to be a sideshow to the rest of the Honda display.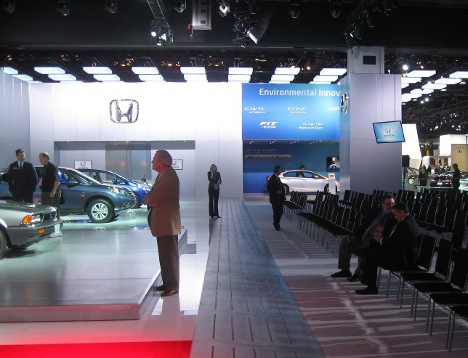 Ford - the Focus is being built in a variety of configurations, with gasoline, hybrid and plug-in hybrid powertrain versions all available. The Ford C-MAX is a multi-activity vehicle (MAV) that will be Ford's "first dedicated hybrid vehicle line."
Chevrolet - the Volt is there, but not with a big display, and Eco options for the Malibu and Cruze are also sharing the green attention. Small cars are also a part of the Chevrolet program, but with more of an emphasis on appealing to young buyers than on efficiency.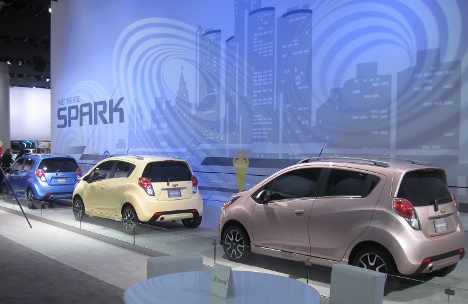 Volkswagen - unveiled the Jetta hybrid with a combined fuel economy of 45 mpg. It's a mild hybrid with only very limited electric drive range, but gives VW another high mileage option to diesel. Also, the E-Bugster EV.
Toyota - the Prius c was unveiled as the smallest member of the Prius series with an under $20k price tag. Other Prius models include the third-generation base Prius, the larger Prius v, and the plug-in Prius.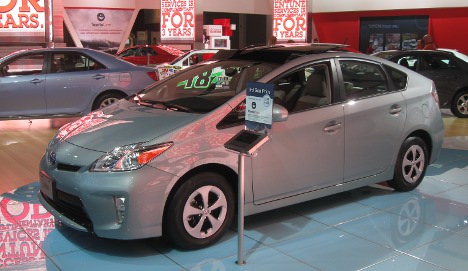 Nissan - after not appearing at last year's show, Nissan had a presence this year that included the LEAF, which was also available on the Ride & Drive track.
Tesla - the Model S sedan was on display, along with a bare frame showing the battery platform.