Giant Solar Power Tower finally powers up in California
|
Ivanpah Solar Electric Generating System, is a hybrid power plant. Unlike the usual solar power plant, which uses solar panels to capture the sun's energy and convert it to power or electricity, the 377-megawatt solar power plant uses giant mirrors to reflect sun power on receivers atop the towers. The reflected energy is then used to heat water to generate electricity.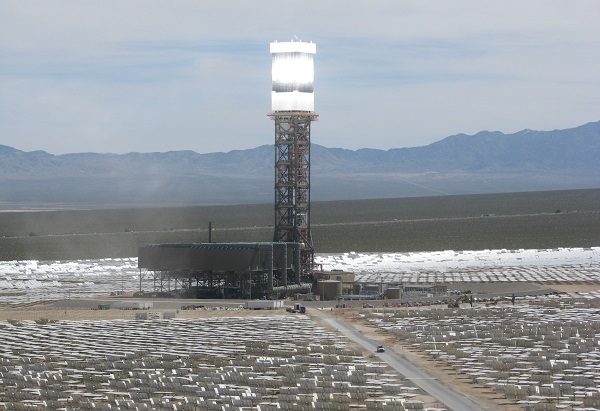 NRG Solar announced the solar power plants operational readiness, after testing confirmed its first energy output when unit 1 station was synced to the power grid for the first time on September 24th.
The project is supported by the government together with NRG Solar's partners, BrightSource Energy and Google Inc.,. Google joined as an equity investor for the project with a $168 million investment last April 2011.
Though the project aims for a cleaner and sustainable source of power, it has dran a few criticism from several environmentalists, most notably on its impact on the fragile and endangered desert tortoise habitat and for dust problems it caused linked to the development.
All parties whoe together on the poject are very much pleased with this acheivement;
"Given the magnitude and complexity of Ivanpah, it was very important that we successfully complete this milestone showing all systems were on track," said Tom Doyle, President of NRG Solar.
"The achievement of this major milestone was possible through the tireless efforts of the entire project team – from the craft to the field engineers and technical experts," said Toby Seay, President of Bechtel's power global business unit.
"At Google we invest in renewable energy projects that have the potential to transform the energy landscape. Ivanpah is one of those projects," Rick Needham, director of energy and sustainability at Google, said in a statement.
Power generated from Ivanpah's initial sync testing on unit 1 will go to Pacific Gas and Electric (PG&E). Power generated from Ivanpah's Unit 3 station is also sold under a PPA with PG&E, while Unit 2 is under a PPA with Southern California Edison.
Ivanpah Solar Electric Generating System will be the world's largest solar thermal power plant once it begins full operations, sending power from units 1 and 3 to the Pacific Gas & Electric and from Unit 2 to Southern California Edison, under long-term power purchase agreements.
There is no word yet on when it will begin full operations. But NRG Solar mentioned that proof-of-concept testing will still be conducted for Unit 2 and 3 in the coming months. So we should not be expecting a full operation within this year.
source: BusinessWire