Honda To Start Recycling Rare Earth Metals From Used Hybrid Batteries
|
One of the main concerns with going for clean and green technology is the shortage in rare earth metals that is used in most green technology, like hybrid car batteries and solar panels. This was thought to be a possible hindrance in the growth of these technology. Different alternative materials has been taken into consideration to replace the rare earth metals, the other solution? recycling.

This is just what Honda have in mind. Recently this week, Honda Motor Co., Ltd. together with Japan Metals & Chemicals Co., Ltd. has announced the establishment of the world's first ever process to extract rare earth metals from used Honda parts, in an actual mass-production process at a recycling plant.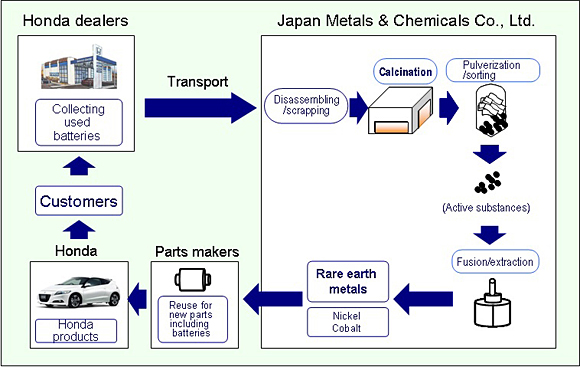 Honda has been recycling nickel as a raw material of stainless steel, by applying heat treatment to used nickel-metal hydride batteries. But Japan Metals & Chemical came up with a better result. Being able to stabilize the extraction process making it possible to extract the rare earth metals, the results is like a newly mined material.
Current the extraction process is able to extract as much as 80% of the rare earth metal contained in used nickel-metal hydride batteries.The recycled material go on to be used in new batteries and other Honda auto parts.
In the future, Honda strives to be able to extract and recycle rare earth metals from a variety of Honda products.
source: Honda