Philippines Setting Electric Vehicles Trend
|
The Philippines has been a trend setter for electric vehicles (EV) for the past years. Though they do not have the latest nor the most high-tech electric vehicle technology in world. They have managed to push for initiatives and create several programs promoting the use of electric vehicles.

Non-government organizations (NGOs) and sectors initiated the move towards clean air and environment protection, with the support of the local government. Today several electric vehicles are roaming the country like Electric Jeepneys (eJeepney), Electric Tricycles (eTrike), Electric Shuttles (eShuttle) and Electric Quadtricycles (eQuad). These electric vehicles are the major mode of transport in the country and also the major contributors of air pollution.
Imagine if majority, if not all, of these mode of transportation would adapt to electric vehicles. It would be enough to clear out the smog in Metro Manila itself.
A major milestone in electric vehicles was achieved this year 2012 by the public transport sector when the Land Transportation Franchising and Regulatory Board (LTFRB) issued the country's first commercial electric jeepney franchise last February 27, 2012, and the vehicles started operation last March 1, 2012.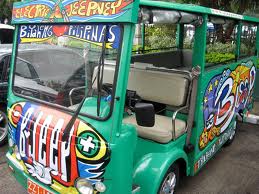 Electric Tricycles are also being used in several areas in the country like Taguig, Surigao, Puerto Princesa, Boracay and Mandaluyong, Cebu and Davao.
With the rise of the electric vehicles trend and its success, several groups are now interested into the green industry and invest in electric vehicles for transportation.
Meralco, a major energy provider in the country, is already looking at using eShuttles and eQuads for the transport needs of its employees, visitors and customers. Recently a bus liner bought its first electric bus (eBus), a first in the country.
Several international financial institutions and agencies have already signified their interest in the development of the electric vehicle industry and the scale-up of sustainable transport initiatives all over the country.
This May 24-25, 2012, the second Electric Vehicle Summit will take place in Pasig City, Philippines. Organized by eco minded non-government organizations (NGOs) such as the iCSC, PSCA (Partnership for Clean Air) and Meralco, and supported by the government's Department of Trade and Industry (DTI), Manila Economic and Cultural Office in Taiwan and several local electric vehicles industry.
Like the first EV summit  last November 2010. This years summit will discuss the progress and possible improvements in the local electric vehicle industry. The summit will bring in foreign delegates from Korea, Japan and Taiwan which can share their EV expertise.